Events
TENSA is constantly moving.
Discover our latest activities in our social channels.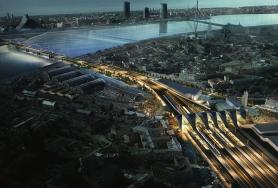 Rizzani de Eccher nella Rail Baltica, Riga Lettonia È stato firmato il contratto di 430,5 milioni di euro per l'appalto della Stazione di Riga, primo lotto funzionale di 2,6 km del megaprogetto infrastrutturale denominato Rail Baltica. Si tratta di un appalto molto complesso in design & build, a cui Rizzani de Eccher partecipa, assieme alla impresa belga Besix e alla impresa lettone Rere, portando un significativo valore aggiunto per la propria esperienza nel settore delle grandi infrastrutture. L'opera consiste nella trasformazione della esistente stazione di Riga in uno dei più moderni terminal ferroviari mai realizzati con 26 scale mobili, 8 ascensori e ampi parcheggi per auto. Verrà eliminato il terrapieno ferroviario esistente che taglia la città di Riga e verrà creato un bypass per treni merci. Rail Baltica è un sistema ferroviario greenfield di 870 km del valore stimato in circa 6 miliardi di euro con uno scartamento tale da permettere il collegamento diretto di Estonia, Lettonia e Lituania alla rete ferroviaria europea. Sono previsti 3 centri multimodali e 7 stazioni passeggeri. Il finanziamento dell'opera è coperto dalla Comunità Europea. Rizzani de Eccher in the Rail Baltica, Riga Latvia A 430,5 million euro contract for the procurement of the Riga Station has been signed. It concerns the first 2,6 kilometres functional lot of the infrastructural megaproject called Rail Baltica. It's a very complex design & build contract, in which Rizzani de Eccher participates together with the Belgian company Besix and the Latvian company Rere, bringing significant added value due their experience in the large infrastructure sector. The work consists in the conversion of the existing Riga station in one of the most modern railway terminal ever built before, with 26 escalators, 8 lifts and broad car parks. The existing embankment, that currently runs through Riga, will be removed and a bypass for freight trains will be created. Rail Baltica is a 870 kilometres greenfield railway system, with a value of 6 billion euros, with a track gauge that allows a direct connection of Estonia, Latvia and Lithuania to the European rail network The project foresees 3 multimodal centres and 7 stations for passengers. The work is financed by the European Community.
June 18, 2019
see post